10 Most Affordable Places to Live in Iowa
Iowa is a great place to live if you want to get the most for your money.
In fact, U.S. News & World Report rated Iowa fourth overall among U.S. states for affordability, taking into account the costs of daily living, housing prices, and family incomes. In housing affordability, Iowa ranked first.
But which of the hundreds of cities and towns in Iowa offers the most value for your money? We looked at the data to bring you 10 of the most affordable places to live in the Hawkeye State.
We started with the top 30 towns in Iowa by population—those with at least 15,000 residents. Then we ruled out those whose populations had fallen over the last 10 years, using population growth as a proxy measure for desirability. Finally, we chose those with the lowest median list price for homes.
The result is the list of the 10 most affordable places to live in Iowa. In each of these towns, you can find a decent home to buy for about $250,000 or less.
1. Newton
Median listing home price: $139,000
Median listing home price per square foot: $120
Median sold home price: $162,500
If you want affordable living in a growing town with lots to offer, Newton is the place to be.
Newton is home to about 139,000 Iowans. It is located east of the Des Moines metro area, about a 30-minute drive from the city center.
The focus of the city is on "providing a safe community with a high quality of life, engaged residents, and a strong business community." It's no wonder, then, that it has been named among the "Top 10 Affordable Small Towns Where You'd Actually Want to Live" by Realtor.com.
As #1 on our list, Newton has the lowest median listing home price—at just $139,000—of all growing towns in Iowa with over 15,000 people.
For that price, you can find a comfortable little ranch house with three bedrooms and just over 1,000 square feet.
If you can spend $325,000, you can afford some of the best homes in Newton; for example, a 4-bedroom, 3-bathroom house, just four years old, seated on a full acre of land.
Newton is a small town unto itself, not just a suburb of Des Moines, but it is geographically close enough for frequent trips. In about half an hour you can be in the city for shopping or entertainment.
Need another reason to move to Newton? Look into the Newton Housing Initiative, which was approved in 2014 by the City Council. The initiative provides incentives to the industry to build more high-quality housing in the area. If you buy a home in Newton, you can get up to a $10,000 cash incentive plus a welcome package the city values at over $2,500.
Related article
Bordering Canada and the Great Lakes is a state fondly dubbed as the "North Star State" and "Land of 10,000 Lakes." The state has a lot of lakes sprawled across its more than 86,000 square mile area. In a comprehensive study of cities, Minnesota is the number one state for raising a family because of its high median income, affordable cost of living and exceptional education services…
2. Davenport
Median listing home price: $149,900
Median listing home price per square foot: $97
Median sold home price: $154,300
Davenport has about 102,169 residents. It is located at the bottom of Iowa's "nose," on the eastern border with Illinois.
Davenport is one of the Quad Cities, four small cities spanning the Iowa-Illinois border. The others are Bettendorf, Iowa; Moline, Illinois; and Rock Island, Illinois.
Davenport is proud of its Mississippi riverfront. Visitors can enjoy walks along its paths or a ride on a historic riverboat.
You can find a house in Davenport listed for as little as $30,000, or even less—assuming you have the time and money to give it the overhaul it needs. There are many fixer-uppers on the market, some of them with a lot of historic charm.
A standard option for a mid-range $150,000 home might be a three-bedroom, two-bath ranch built in the 1960s. And for $250,000, you can have a fresh, new 3-bedroom with 1,745 square feet.
Favorite places for families to visit in Davenport include Vander Veer Botanical Park and Putnam Museum and Science Center.
The town boasts that it offers "some of the nation's best schools, friendliest neighborhoods, highest quality public services and a distinguished reputation for the arts, entertainment and especially music."
Related article
While everyone in Minnesota shares accesses to the great outdoors, four distinctly enjoyable seasons, and a friendly Midwestern vibe, each community has its own personality. Here are our views of the Top 8 Cities for family life in Minnesota. With a variety of personalities and attractions…
3. Cedar Rapids
Median listing home price: $160,000
Median listing home price per square foot: $105
Median sold home price: $153,300
Cedar Rapids has a population of about 132,301. It is located in Eastern Iowa, midway between the state's north and south borders.
Smaller than the capital city of Des Moines, and less of a college town than nearby Iowa City, Cedar Rapids is a friendly midsize city that has been growing for the past 30 years.
For the median home listing price of $160,000, you can expect to see something like a modest ranch house with around 1,500 square feet built in the 1960s.
A little more money will get you a lot more house; for $250,000 to $275,000 you can get a home with around 2,500 square feet built in the 1980s. New construction, larger homes mostly start in the high $200,000.
A local favorite attraction is the indoor NewBo City Market, with its surrounding "new Bohemian" district. The neighborhood features plenty of breweries and restaurants, while the market offers farm-fresh produce and eclectic small food vendors.
Related article
If you want the variety, history, and entertainment options of a big city, but with shorter commutes and a laid-back Midwestern vibe, Milwaukee, Wisconsin may be the place for you. It has an upscale side, especially in trendy districts like the Historic Third Ward, and its proximity to Chicago…
4. Dubuque
Median listing home price: $172,500
Median listing home price per square foot: $102
Median sold home price: (unavailable)
Dubuque is home to about 58,196 Iowans. It is located in the east-northeast corner of the state, across the Mississippi River from both Wisconsin and Illinois.
Dubuque is picturesque, situated on the bluffs overlooking the Mississippi, where eagles are often seen soaring. One of the best viewpoints in town is from the top of the Fenelon Place Elevator, a historic cable car.
It's the oldest city in Iowa, and it was once the capital—hence the gold-domed capitol building still visible along the skyline. Nearly 40 murals have been painted downtown since 2016, adding new art to old architecture.
When you're ready to buy a home in Dubuque, you'll find a lot of variety at affordable prices. If your budget is below the median listing price of $172,500, you'll be looking for an older 3- or 4-bedroom home that's ready for some renovations.
For $215,000 you might find a beautifully architectural house built in 1882. And if you have $300,000 to spend, you can afford a move-in ready, new-construction home with about 2,000 square feet.
For budget-friendly fun, families love to visit the National Mississippi River Museum and Aquarium and watch the ships and trains down by the river.
5. Des Moines
Median listing home price: $175,000
Median listing home price per square foot: $154
Median sold home price: $165,000
The city of Des Moines has about 216,000 residents, making it not only the state capital, but also the largest city in Iowa. The metro area is much larger, with over 655,000 people. Des Moines is located centrally within the state, a bit closer to the southern border than the northern one.
The Ascent, a Motley Fool analysis website, recently listed Des Moines as the sixth most affordable place to live in the United States, with an estimated cost of living of $55,283 (the lowest on the list) and a median household income of $71,164.
Des Moines ranked #1 in the Midwest for high salaries and low cost of living.
What will the median home listing price of $175,000 get you in Des Moines? A recent search on Realtor.com yielded a number of single-family houses with two to four bedrooms and 1,000 to 2,000 square feet built around 1950-1980.
If budget is your top priority, you can find a condo or a very small house for as low as $60,000.
For a newer house, built in the 2000s, expect to start your search in the mid-to-high $200,000.
Family-friendly fun in Des Moines includes the Downtown Farmers' Market, the Science Center of Iowa, the Blank Park Zoo, and a wide variety of parks and trails.
Related article
Michigan is the only state in the United States with two separate peninsulas and five surrounding Great Lakes. Its landscape is diverse, ranging from industrialized skylines to sweeping sand dunes to gorgeous waterfalls. Once home to Henry Ford, it's also considered the epicenter of America's…
6. Cedar Falls
Median listing home price: $209,700
Median listing home price per square foot: $155
Median sold home price: (unavailable)
Cedar Falls has a population of about 40,983. It is located off the west side of Waterloo, in the northeast quadrant of the state.
The town is home to the University of Northern Iowa, the smallest of Iowa's three state universities. It is situated along the Cedar River and graced by a number of small lakes, such as Big Woods Lake and Alice Wyth Lake.
What will the median list price of just under $210,000 get you in Cedar Falls? A recent search found a charming 4-bedroom home built in 1890 and a simple three-bed, three bath home with 1,456 square feet built in the 1960s.
If you've ever wondered how far $1 million would stretch in a small town in Iowa, think 6 bedrooms, 4.5+ baths, 4,136 square feet, and 1.86 acres. Cedar Falls has its ritzy areas.
The town is still growing, and you can buy a new lot to build on for about $65,000 for a quarter acre.
Public schools save families money in Cedar Falls by offering high-quality education; the town's schools rank 9/10 on average, in the top 20% in the state.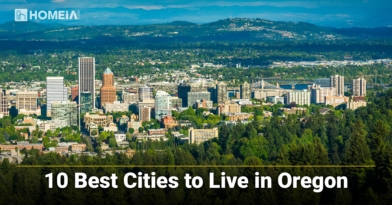 Related article
Oregon is a study in contrasts. It has 363 miles of the most breathtaking coastline you'll encounter anywhere in the world. But it also has dense forests, mountain ranges, and high desert country. Here're the 10 Best Cities to Live in Oregon…
7. Coralville
Median listing home price: $228,900
Median listing home price per square foot: $134
Median sold home price: $248,000
Coralville is home to about 21,103 Iowans. It is located to the northwest of and adjacent to Iowa City, and due south of North Liberty.
The population in Coralville is educated; of those 25 and older in Coralville, 64% have at least an associate degree, and 80.2% have some college education.
Housing in Coralville can go as low as $60,000 for a single-bedroom condo all the way up to the $800,000 for elegant homes with over 4,000 square feet.
Homes listed near the median price of $228,900 might get you a 3-bedroom home, built in the 1970s, on a quarter acre of land with a two-car garage.
One of the most popular places in Coralville is Coral Ridge Mall, which features over 100 stores, many dining options, a 10-screen movie theater, and even a regulation-size ice rink.
For family fun and education, the Devonian Fossil Gorge is an impressive place to discover what the land was like 375 million years ago. The discovery of the gorge was the silver lining of the floods of 1993 and 2008. As tons of soil, trees, and roads were washed away, this fossilized ocean floor was revealed.
Related article
Before you consider a move to Chicago, you should consider 7 key factors that will increase your appreciation for the city and guide you to the right neighborhoods and activities for you…
8. Indianola
Median listing home price: $229,500
Median listing home price per square foot: $177
Median sold home price: $220,000
Indianola has about 15,802 residents. It is located in Central Iowa, south of Des Moines, about a 24-minute drive from the state capitol building.
Families in Indianola save money by sending their children to the town's strong public schools. In 2021, six public schools serve 3,634 students. Average math proficiency is 83% and average reading proficiency is 81%.
You can find smaller, older homes in Indianola for as low as $150,000. At the top of the range are spacious homes with land, listed at $500,000 and up. In general, though, newer homes in the area tend toward the upper $200,000.
For affordable fun in Indianola, join the 75,000 annual visitors to the National Balloon Classic, a hot air balloon festival. When the festival is not in session, check out the National Balloon Museum and U.S. Ballooning Hall of Fame.
Indianola is also home to the Des Moines Metro Opera, a well-regarded opera company with numerous performances each year.
To spend some time outdoors in Indianola, checkout the Pickard Recreation Area or the Buxton Park Arboretum.
9. Marion
Median listing home price: $240,000
Median listing home price per square foot: $114
Median sold home price: $252,300
Marion has a population of about 39,328. It is located in the eastern part of the state, about halfway between the north and south borders, and adjacent to Cedar Rapids on its southwest side.
Marion is among the fastest-growing cities in Iowa, but remains "intentional about maintaining its unique sense of community."
The city maintains 600 acres of public green space and draws shoppers with Uptown Marion, its Main Street district, which features unique small businesses.
When you shop for homes in Marion, you'll find charming older houses as low as $120,000 for a small three-bedroom. At the other end of the spectrum, you'll see sprawling five-bedrooms with over 4,000 square feet selling for $600,000 or more. Either way, you'll get a lot for your money compared to other areas of the state and country.
Public schools in Marion are a great bet; the average math proficiency score is 83%, and the reading proficiency is 80%, giving its schools an average rank of 7/10.
For affordable entertainment, check out the annual spring Marion Arts Festival, which has ranked as one of the best in the country.
Related article
Before considering your move to Boston, we have compiled a list of 7 key factors we put together for you. Boston life is about the best city life you can imagine. Relatively small, it's often referred to as the walking city, with world-class museums, universities, theaters, and gourmet dining…
10. North Liberty
Median listing home price: $249,900
Median listing home price per square foot: $134
Median sold home price: $24,000
North Liberty is home to about 18,829 Iowans. It is located to the northwest of Iowa City, about a 13-minute drive from the University of Iowa campus.
North Liberty calls itself a "thriving, young community; a family-friendly small town but with easy access to big-city amenities in the heart of the Iowa City-Cedar Rapids region."
The town covers about 5,684 acres and boasts 24.3 miles of recreational trails for families to enjoy.
If you're looking to buy a home in North Liberty, you might find a three-bedroom, three-bath home with about 2,200 square feet on about 10,000 square feet of land for around $305,000.
If you're on a tighter budget, look for a condo ($99,000 and up for two bedrooms) or a twin home (in the high $100 thousands).
North Liberty is also an affordable place to build, with a quarter acre of land selling for around $50,000 to $90,000.
For affordable fun in North Liberty, check out July's North Liberty Blues & BBQ or the winter festival called Beat the Bitter.
Related article
If you have the flexibility to move anywhere in the U.S., where could you buy the cheapest home? After examining data from Zillow and World Population Review. Here're 10 most affordable States in the South and the Midwest to consider when buying a house in 2024…
Affordable Iowa
The towns we've introduced here are just a few of the places in Iowa where you can live comfortably and affordably.
Of course, housing is not the only factor in cost of living. How does Iowa rank in other areas?
Childcare: Annual costs are around $10,000, compared to about $5,500 in the least expensive state and $20,900 in the most expensive.
Groceries: The average person spends $2,801-$3,200 per year on groceries, compared to $2,400-$2,800 in the cheapest states and $4,000+ in the most expensive.
Utilities: $436.46 average per month, compared to $343.71 in the cheapest state and $730.86 per month in the most expensive.
With its low costs and high quality of life, Iowa is a great home for many Americans, and the towns we've listed here are just the beginning.