Home Maintenance Checklist: Get Your House Ready to Sell
Selling a house is no easy task. Sellers need to put in a lot of work to ensure that their home fetches enticing offers from potential home buyers. Staging your home is can make it visually appealing to buyers, but it is just the icing on the cake. To really get your home ready to sell, you'll need to check it over thoroughly and perform any necessary maintenance.
This process will help ensure that your home is free from any repairable issues that could reduce the value of the house.
Here are some tips to help you ensure that your home is primed for selling.
1. Exterior
a. Curb Appeal
Many home sellers fail to see the importance of their home's external appearance in attracting potential buyers. If you've prepped an open house and no one is stopping by to check out the home, it may be because the exterior is bland, dull, or run down. Remember that the facade of your home is a preview of your interior.
Invest in having a well-maintained exterior. Remove overgrown or dead plants and dried leaves, trim your trees and prune your bushes. Replace broken or missing shutters and trim. Clean any mildew and grime from your siding, and repaint anything that doesn't look fresh: your fence, front door, pillars, or mailbox.
Only then should you focus on decorations. It doesn't have to be anything fancy; an attractive new doormat and some flowers on your patio will do. A welcoming entrance can beckon buyers to come in and take a look.
Related article
b. Roof and Gutters
While you are outside, thoroughly inspect your home's roof. Is there any damage on the roof, such as broken shingles that need to be replaced? Does your chimney need an inspection to see if there are signs of wear?
When performing a thorough check, see if your gutter has any clogs that need to be removed so they do not cause any leaks later on. (Ideally, your gutters should be cleaned at least once every six months. If you have a number of trees on your property, you may have to do it more often.)
Damaged or clogged gutters can cause water to pool at the base of the home, potentially weakening the foundation.
c. Foundation
Walk around the outside of your home. From the corners, sight down the sides of the house and take note of any bulging or sloping areas; these can indicate that there is an uneven load on the foundation. Are there signs of water pooling that should call for a deeper inspection? Any chipping or cracks, and especially any cracks that are horizontal or more than a quarter inch gap?
Inside, check the walls for cracks, bulging, leaning, or separation. Make sure windows and doors open easily; if they are jammed, the foundation may have moved.
Remember, most astute buyers will take a look at the foundation and they will avoid your property if there are any signs of damage. Plus, selling a house with issues can lead to difficulties at the inspection stage. Repair damage as necessary and inform your buyers about it.
Related article
Travel aficionados who are looking to fill up their bucket list with various visits to fun U.S. states should most definitely pencil in Tennessee as one of their destinations. The people in the so-called Volunteer State (Go Vols!) are genuinely friendly folks who never fail to provide visitors with…
d. House Paint and Siding
Your house's exterior is a protective layer, so peeling or chipping paint and damaged siding make it vulnerable to additional damage. Protect your house and give it a facelift with a new coat of paint. Painting and touch-ups are ideally done during the spring, so that the paint has ample time to dry before it rains or snows.
Related article
Bordering Canada and the Great Lakes is a state fondly dubbed as the "North Star State" and "Land of 10,000 Lakes." The state has a lot of lakes sprawled across its more than 86,000 square mile area. In a comprehensive study of cities, Minnesota is the number one state for raising a family because of its high median income, affordable cost of living and exceptional education services…
2. Interior
a. Heating and Air Conditioning Systems
If your home comes with a central heating and air system, it is best to leave the maintenance to the experts. Work with trusted HVAC technicians like Accuserv to do an inspection of your furnace and check for any signs of damage.
If you've been scheduling maintenance servicing at least twice a year, as recommended, you shouldn't have any surprises in the pre-sale checkup.
If your home has steam heat, you should be doing regular draining of your boiler to ensure there are no sediments that may accumulate and damage the system. If you've neglected this task, your HVAC professionals will have more work to do to get the system ready for new buyers.
b. Plumbing
Another essential maintenance check you should do before you put your home on the market is your plumbing system. Go around your house and inspect all the pipes to see if there are leaks. Don't stop at checking the faucets; go under the sinks to look for dripping or water damage.
Inspect your ceilings if there are water stains, which can indicate the presence of a leak inside the wall.
Head to your bathrooms and see if the toilets are functioning well.
Take the time to fix whatever you can, or call in in the help of a plumber.
Related article
Given the outdoors benefits – the cost of living in Colorado is still one of the best values in the country. Here're the 10 most affordable places to live in Colorado, taking into account the cost of living, median housing price, average crime rate and other factors that make the place unique…
c. Sump Pump
If you have a basement, it would also be wise to look at your sump pump to ensure that everything works well. It is best to do it before snow or rainstorms come because the pumps can be harder to fix when water is present.
Related article
Michigan is the only state in the United States with two separate peninsulas and five surrounding Great Lakes. Its landscape is diverse, ranging from industrialized skylines to sweeping sand dunes to gorgeous waterfalls. Once home to Henry Ford, it's also considered the epicenter of America's…
d. Smoke Detectors and Carbon Monoxide Alarms
Smoke detectors and carbon monoxide alarms are required by law in most localities, so make sure to have them in all the necessary locations before you put your home on the market. And make sure they're all functioning properly; three fifths of fire fatalities occur in homes with absent or malfunctioning alarms. The National Fire Protection Association recommends that you replace any smoke alarm that is more than 10 years old.
e. Electricals
It is also a good idea to have a professional electrician check your wiring and make necessary repairs. Any loose wirings should be attended to and repaired to prevent any incidence of fire.
Related article
The cost of living in Minnesota varies by location and is highest in its large metro areas, but on the whole, it compares well to the coasts and to big cities. Each community in Minnesota has its own personality, and here we will introduce you to 15 of the best options for retiring in the North Star State…
f. Declutter and Clean
If you have been putting off decluttering for a while, your upcoming home sale should be enough reason to do it. When you have too many things in your home, it can be hard to see areas that need repair, like flooring damage or even insect damage.
Once you are done with all the maintenance checks, have a friend go over your house to see if you've missed anything. Your real estate agent can also point out any additional maintenance required to help your home do well in the market.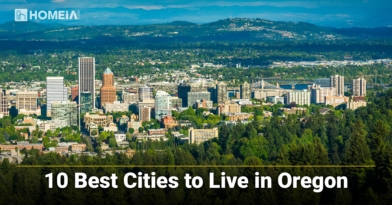 Related article
Oregon is a study in contrasts. It has 363 miles of the most breathtaking coastline you'll encounter anywhere in the world. But it also has dense forests, mountain ranges, and high desert country. Here're the 10 Best Cities to Live in Oregon…