10 Key Things You Should Know About Buying a House During the COVID-19 Pandemic
One foot on the gas, one foot on the brake
With the events of recent months, people are spending more time than ever inside their homes—and that means they've had plenty of time to consider every flaw and limitation.
Some have invested in home improvement. Home Depot and Lowe's increased their net sales by 26 percent—a combined $13.5 billion—for the three-month period ending in July 2020, compared to the same period in 2019, according to the LA Times.
Others have learned to appreciate the home they have.
For a significant portion of renters and homeowners, though, the self-quarantine has led to the decision that it's time to buy a new home.
Whether in search of more space, more privacy, a better location for work, or just a more pleasant atmosphere, the number of home buyers today has skyrocketed.
Related article
The answer will depend on factors such as the inventory in your location, your financial situation, and delays caused by backlogs in work surrounding real estate transactions. Here we'll explore the steps of home buying, estimate the time they might take in the current environment, and suggest ways to expedite the process and get you in your new home faster…
"The State of the Nation's Housing 2020" report by Harvard's Joint Center for Housing Studies (JCHS), reported that, while the early days of the pandemic caused an abrupt drop in home sales (sales of existing homes dropped 27 percent year-over-year in May), the market has since recovered. Total sales in 2020 are now expected to exceed those for 2019.
The supply of homes, though, is insufficient to meet current demand. There were 1.47 million homes on the market in September 2020, according to the JCHS report—a supply of only 2.7 months. That's the lowest supply in U.S. markets in decades.
Financially, buyers' incentives are mixed: on one hand, interest rates are extremely low, making mortgages more appealing. On the other hand, lenders, wary of the recent hits to the economy, have tightened their standards, making it harder to get approved.
We asked real estate agents and industry experts to share the effects they've seen on their own markets. They painted a picture of an extreme seller's market where homes are sold as soon as they're listed, leaving many buyers out of luck.
1. Want to buy a home? Start early.
How long does it take to find and buy a house in a normal environment?
"It usually takes my clients an average of a few days to two months in total," says Tal Shelef of Condo Wizard in Toronto, Ontario. "[T]hree to five days for the pre-approval process, two to three weeks finding their home, three days to negotiate, and a month to close the deal."
But the pandemic has skewed that timeline. Shelef says finding the right home can take longer, in part because it's harder to see homes without an appointment, and the pandemic has caused appointments to be scheduled further out than usual.
David Dye of GoldView Realty in Torrance, California, points to regional differences. "Since real estate is a local business," Dye says, "timelines vary drastically by area. Here in Los Angeles, I am seeing a two- to three-month start to finish on average, including prequalification, showings, escrow, etc."
By and large, real estate professionals report that conditions today are similar to a traffic jam.
Lisa Bonhotal of Coldwell Banker Realty in Alpine/Closter, New Jersey, puts it succinctly: "The market is hot right now, and it could take longer now to purchase a home due to lack of inventory and lots of buyers out there with the low interest rates and multiple offers for sellers."
Related article
2. Safety comes first.
"The COVID-19 pandemic has caused unprecedented impact and uncertainty for buyers, tenants, sellers, and just about everyone involved in a real estate transaction," says Adrian Silva of One Realty in El Paso, Texas.
One of the basic problems in a pandemic is making sure in-person steps—showings and inspections, for example—are safe for all involved.
"Listing agents in busy markets are seeing an incredible tidal wave of buyers requesting showings right after a property is listed," says William Schoeffler of Instashowing.com. "We provide showing software for realtors, so we have a unique vantage point into the trend. We are seeing agents list houses in California on a Friday and within a few hours their calendar is filled with 72 bookings," he says. "That is one appointment every half hour for the next three days."
He adds that this situation is "especially problematic with COVID. Agents need to fill out a COVID compliance form in some areas; however, some houses are seeing over a dozen showings a day, complicating the matter."
As with all things in real estate, though, Schoeffler says the volume of showings depends on the location, with some seeing a "fire hose" of requests while others "only see a trickle."
Related article
No matter your reason for considering relocating to Los Angeles, you will find a lot to love in this sunny, warm, sprawling, diverse city. In this article, we will give you a feel for L.A.'s standard of living, climate, housing, education and more. Here are 12 Key factors you should know before moving to Los Angeles, California…
3. Despite the pandemic, the industry's in turbo mode.
Chris Popkin, a real estate agent in New Jersey, says, "The past few months have been crazy. I can't wrap my head around it, but while the world is struggling to get back on its feet, real estate is booming."
He says it is normally easy for a buyer to find a house and get it under contract, but lately "it's been a real hurdle. Buyers can expect to get into bidding wars," he says, "because inventory is extremely scarce."
"We need a seller who is willing to put their home up for sale in the middle of a pandemic," says Silva. "Most sellers are holding back from listing their home on the market."
Popkin points out that the low inventory is good news for his sellers, who "have homes under contract in less than a week."
Peter Gray of Pyramid Real Estate Group in Stamford, Connecticut, says, "It is the hottest market I have seen in my career." He says listings tend to have "multiple competing offers, all above asking price. We are seeing deals close in 30 days!"
4. Expect delays.
"Everything about buying a home in NYC takes longer today than it used to," says Michael Shapot, a residential real estate broker in New York City. "Scheduling appointments to visit; negotiating contracts and doing due diligence; applying for and securing a mortgage; obtaining approvals, waivers and clearing title; scheduling a closing."
"Pre-COVID, it typically took 90 days from contract to close; today it takes 120+ days. When you're an eager buyer, it seems like forever from the time of your first visit until move-in day—because it practically is forever."
April Macowicz of Big Block Realty in California says a typical buyer (whom she defines as someone who qualifies for a loan and has about five to ten percent cash for the down payment and closing costs) "would typically take 30-60 days to find and complete a transaction."
"In today's crazy market," she says, "we are seeing typical home buyers taking 90-120 days to secure a property and close on it."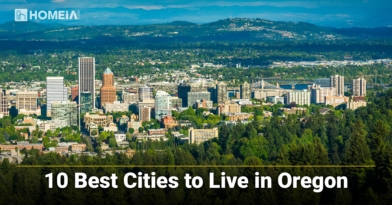 Related article
Oregon is a study in contrasts. It has 363 miles of the most breathtaking coastline you'll encounter anywhere in the world. But it also has dense forests, mountain ranges, and high desert country. Here're the 10 Best Cities to Live in Oregon…
Not everyone is seeing delays, though. Tyler Forte of Felix Homes in Franklin, Tennessee says, "From start to finish, it typically takes my clients about 45 days to purchase a home. The initial home search process is roughly 15 days and the closing process adds another 30 days. This is much shorter compared to a year ago."
"The real estate market nationwide is so hot that buyers have not been as picky when finding the perfect home," says Forte. "It is not uncommon for a home to be listed in the morning and already have multiple offers by the evening."
Dye attributes today's longer timelines to two things: competition and lending. "Since most properties are receiving multiple offers," he says, "many buyers do not get the first home they offer on. This delays the process on the search side.
Steve Novak of EZ Agents in Denver, Colorado, calls the current timeline for buyers "a tale of two halves—searching versus under contract."
"Due to low inventory, searching for homes and getting under contract is where the headache is for buyers," he says, "and [it] can vary widely from weeks to months."
But there's pressure in the other direction, too. "Due to the high demand from buyers," Novak says, "sellers expect buyers to be able to complete a quick and easy close. Thus, 30 to 45 days max is the expected timeline from under contract to close."
Related article
Miami is the only major U.S. city to have been founded by a woman. Arriving in 1891, native Clevelander, Julia Tuttle bought several hundred acres along the bank of the Miami River in an area then known as Biscayne Bay. Her passion to build a community in her newly found paradise…
5. Money takes time.
For Max Cohen of FLHomeBuyers.com in Florida, the current average from contract to closing is 35 days. "On top of all the new purchases," he says, "appraisers and loan underwriters are busy handling all of the refinancing going on due to the desirable interest rates."
"Once in contract," Dye explains, "lending becomes the bottleneck. While some lenders are still pumping out approvals in a matter of days, many are backed up due to the influx of refinance transactions they are also juggling."
He calls the combination of low inventory and lending backups "the perfect storm for a delayed homebuying process."
Related article
Michigan is the only state in the United States with two separate peninsulas and five surrounding Great Lakes. Its landscape is diverse, ranging from industrialized skylines to sweeping sand dunes to gorgeous waterfalls. Once home to Henry Ford, it's also considered the epicenter of America's…
6. Finding a home can be a marathon…and expensive.
"After one of the hottest housing markets on record," says Margaret Craig of Engel & Völkers in Halifax, Nova Scotia, "many buyers are feeling fatigued by rising home prices." She cites an increase of 21.4% in the average sale price over last year. Adding to the challenge, she says, is the fact that multiple offers are typically coming in on "well-priced and well-presented" listings.
"I recently had clients compete against 16 other buyers," says Craig, "which means 16 more homes in this neighborhood and price point would have to come on the market to satisfy the demand."
"In previous years buyers were often successful in purchasing the first home they offered on," Craig continues; however, in the current market, "buyers should brace themselves for writing multiple offers before landing 'the one.'"
"Inventory is at an all-time low in our market," agrees John Myers of Myers & Myers Real Estate in Albuquerque, New Mexico. "It can take 30 days to several months to get a home under contract."
Related article
Travel aficionados who are looking to fill up their bucket list with various visits to fun U.S. states should most definitely pencil in Tennessee as one of their destinations. The people in the so-called Volunteer State (Go Vols!) are genuinely friendly folks who never fail to provide visitors with…
The highly competitive market is a particular challenge for buyers who would rather shop until they find the perfect home.
Cindy Allen of DFWMoves.com in Dallas-Fort Worth, Texas, says that "[A] buyer who needs to be in a new home soon can't wait around to see what else comes up for sale next week. They have to jump in right away."
For buyers without a deadline, the situation is even worse. "Buyers without a deadline are often still looking eight or nine months and still not buying," says Allen. "Many won't put their [homes] on the market until they find one, but sellers with multiple offers aren't inclined to accept a contingent offer. And unfortunately, prices keep rising while those buyers keep getting shut out. They're losing buying power every month."
7. Be prepared for multiple offers.
"In our market, we are in short supply of homes," says Ryan Waller of Guelph's Real Estate, near Toronto, "and it's very, very competitive, where most homes are selling over asking.
"As an example," he says, "our clients were one of 13 offers last night on a house. We got it after six previous lost attempts. [A]nother was one of eight offers today. Got it, too! It's a frustrating market for buyers where they have to be nimble, prepared, and aggressive."
In a multi-offer situation, according to Macowicz, the winners often have plenty of cash and can pay above the asking price—and even above the value of the property.
"They say that cash is king, especially when buyers are competing against 50 other offers on one property," she adds. Fifty others? "Yes, this is an actual situation. There simply is no inventory in most markets and it is causing a huge problem for a lot of prospective home buyers that are trying to take advantage of today's interest rates."
Related article
Given the outdoors benefits – the cost of living in Colorado is still one of the best values in the country. Here're the 10 most affordable places to live in Colorado, taking into account the cost of living, median housing price, average crime rate and other factors that make the place unique…
8. Cash transactions go faster.
"It depends on if it is cash or financing," says Tazz Weatherly of Real Estate with Tazz in Idaho. "For cash, we are seeing closes at six to eleven days, and for financing buyers we are seeing 17- to 45-day close dates."
Why the difference? Weatherly attributes the quick turnaround on cash purchases to fewer contingencies on the offer. Financed offers, in contrast, typically require contingencies for the inspection and appraisal.
Matt Rostosky of Cashofferky.com in Louisville, Kentucky, agrees that cash transactions can go quickly. He works for investors seeking opportunities rather than those seeking their own homes. "[A]s soon as they see one they are interested in," he says, "they can close in as little as seven days."
Government financing can be a source of delays, too. Andre Holloman of Keller Williams Realty in Connecticut says that in his market, "it is a 45- to 60-day turnaround with conventional financing, and almost 70 to 80 days going government financing."
He says he has to either get full preapproval for clients or look at loan programs with fewer overlays in order to make the process go faster.
Related article
The popularity of the waterfront can mean high housing costs and consumer prices. Luckily, for those willing to look past the likes of Malibu and Venice Beach, there are plenty of scenic spots along the country's lakes and oceans where retirees can make a nice home even with a reduced…
9. Contract to closing may take longer than usual.
Lenders and underwriters have been hit with huge workloads. They are handling not only a maxed-out schedule of home sales, but a record number of refinances.
In the current environment, Allen says, "It is not uncommon to see lenders need 45 days from the date of contract to close, up from 15 to 30 days."
James McGrath, co-founder of Yoreevo in New York City, says, "[O]ne area where I'm sure there are delays across the country is getting a commitment letter from a bank. We have seen that take about an extra two weeks and sometimes even longer, depending on how good your lender is."
"A year ago," Weatherly adds, "a 30-day close on a house was standard, but now in this hot housing market we are seeing lending institutions being bombarded with eager buyers and home refinances." She, too, says the volume is leading to long close periods.
Related article
Before considering your move to Boston, we have compiled a list of 7 key factors we put together for you. Boston life is about the best city life you can imagine. Relatively small, it's often referred to as the walking city, with world-class museums, universities, theaters, and gourmet dining…
And it isn't just the lenders.
"Even if they're processing loans quickly, it's taking longer to get appraisals and surveys done," says Allen.
Paige Schulte of Windermere Professional Partners in Gig Harbor, Washington says, "Appraisals can be the biggest hurdle in keeping timelines, as they are backed up."
She says other county inspections—on-site sewage inspections, for example—can hold up a sale today, too, due to COVID safety measures.
Dianne Rechel of Realty Executives in Hartford, Connecticut also finds her transactions held up at the appraisal stage. "This year, during the pandemic," she says, "I have had people call me up, say they want to see a certain house, look at it, buy it with cash, and the whole process takes less than 60 days." In her market, she says, "the only thing that takes longer than a year ago has been the appraisal process, since Town Halls have been closed or have limited hours."
10. It pays to be prepared.
"In a hot market like we are having here in Idaho, buyers and sellers need a lot of upfront education to not only make informed decisions, but to also have realistic expectations through this dynamic and shifting real estate market," says Weatherly.
Gray agrees. "Educated buyers are prepared with strong offers their first time out," he says. "They understand value and the current economic climate within our submarket, and they are prepared to do what it takes to buy." He compliments his buyers, who are largely moving out of New York City. "They are extremely sophisticated buyers who come to us well prepared," he says.
According to Schulte, "A well prepared buyer and great lender and realtor can get the contract to close in 30 days or less."
She stresses that buyers should be "fully underwritten" in order to compete in the current market.
While buyers can't control every aspect of the transaction, "Choosing a lender that is prioritizing purchases is huge," she says, "since refinance volume is high."
Conclusion
The pandemic and other recent events have brought changes to the real estate market, particularly for those looking to buy the small number of homes available. Until conditions change—and they always change—patience is key. Make your offer as strong as possible and eventually you will find yourself in a new home.
Related article
If you have the flexibility to move anywhere in the U.S., where could you buy the cheapest home? After examining data from Zillow and World Population Review. Here're 10 most affordable States in the South and the Midwest to consider when buying a house in 2022…