New Home, New Flaws: Affordable Way to Fix Common Problems After Move-In
Your old home probably had its fair share of issues. The kitchen's odd shape or the lack of open concept might've driven you crazy; or the kids may have outgrown their rooms. Your former home's failure to address your family's needs may have been precisely why you felt it was time to move.
You found a wonderful house in a great neighborhood, sold your old home, packed up your belongings, and hired the movers. When moving day came, everything went smoothly. You're starting to settle in and get used to your new surroundings.
Related article
No matter your reason for considering relocating to Los Angeles, you will find a lot to love in this sunny, warm, sprawling, diverse city. In this article, we will give you a feel for L.A.'s standard of living, climate, housing, education and more. Here are 12 Key factors you should know before moving to Los Angeles, California…
And then you start to notice the little things. During the open house, you may have had rose colored glasses on. You cared about the square footage and about how your family would use all that space. The number of bathrooms, the big backyard, and the master suite stood out, while the small-yet-important flaws did not. But now, they're becoming apparent — and they're disrupting your life.
After spending so much money on the home and on the move, you probably aren't eager to sink in more funds to your newly purchased property. Fortunately, there are some fixes that can be performed without a big budgetary hit. The following solutions will allow you to add both functional and aesthetic value into your new home without breaking the bank.
1. Freshen Up Your Kitchen
You don't have to completely gut the kitchen to give it a true transformation. If you really hate the layout of the space or despise the style, that might be something to consider down the line. But when you're trying to save money while giving your kitchen a fresh new look, you don't have to go crazy. You might be surprised by just how effective a fresh coat of paint and new hardware can be.
If your cabinets are looking worse for wear, paint them white or give them a nice new stain. Get some new knobs and pulls to replace the existing ones on the doors and drawers throughout the room. These easy fixes are affordable but really pack a punch. Devote the weekend to this task and see how big a difference it'll make.
Related article
No matter your reason for considering relocating to Los Angeles, you will find a lot to love in this sunny, warm, sprawling, diverse city. In this article, we will give you a feel for L.A.'s standard of living, climate, housing, education and more. Here are 12 Key factors you should know before moving to Los Angeles, California…
2. Let There Be Light
If the kitchen or the bathrooms aren't well-lit of course by adding natural light via windows is preferable for most homeowners. That's not always an option due to layout concerns or cost, but you can always upgrade your existing light fixtures with new high efficiency light fixtures while staying on budget and more cost effective on your energy bill.
Or simply by adding new under-cabinet lighting may allow you to see more clearly and add ambiance to your kitchen. Switching out out-dated lighting throughout your home is a good improvement without going into debt. If your outdoor space is dark and uninviting, adding lighting there can be a good investment as well.
3. Make Your Bathroom a Beauty
Whether your powder room, your guest bath or your ensuite is stuck in the past, it's difficult to impress your guests. You want your lavatory to be luxe. Like we said earlier, you don't necessarily have to clear out the whole room and start from scratch. You may be able to make some small yet impactful updates that will change the entire feel and function of the bathroom.
For instance, you could swap out the vanity and add a new mirrored medicine cabinet for an affordable price. Alternatively, you could add in a new toilet, a new faucet system and showerhead, or a new partial backsplash to make your washroom stand out for the right reasons. It will make the bathroom look ten times better — without spending ten times as much as you should.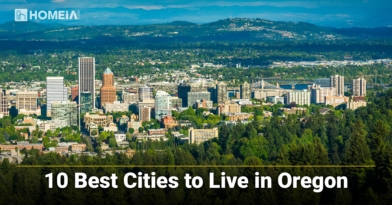 Related article
Oregon is a study in contrasts. It has 363 miles of the most breathtaking coastline you'll encounter anywhere in the world. But it also has dense forests, mountain ranges, and high desert country. Here're the 10 Best Cities to Live in Oregon…
4. Improve the Heat
If your new home isn't actually a new build, you might find that you're less comfortable in your new digs than you thought you'd be. Your house might be a bit drafty in spots, which could make you shiver or sweat when the weather changes.
There could be a lot of potential causes, but if you're looking to save money and stay cozy, there may be a relatively easy fix. By adding some fiberglass or cellulose insulation to your crawl space or attic can make a colossal difference in your comfort level.
In fact, your home could become up to 10 degrees warmer in the wintertime or up to 10 degrees cooler in the summertime, without making any other changes. Not only will your family feel a lot comfier and healthier, but you'll also save a substantial amount on your energy bills every month as a result. Whatever the costs of insulation may be, you'll likely find that it's well worth it in the long term.
5. Increase Your Curb Appeal
You probably fell in love with your new home because of all it has to offer and you might overlook the subpar front yard or exterior because of all the goodness inside. Or it could be buying your home during the winter months and now it's summertime, and your curb appeals is not that appealing to you.
Being able to see past a lackluster first impression can often allow you to save money on the final purchase, as many buyers won't even give a home with poor curb appeal a second glance.
Now that you own the place, it might be time to increase its value by amping up this area. You could replace or simply repaint the front door, put up some flower-filled window boxes, trim the hedges, or install new house numbers and a new mailbox.
Eventually, you can move onto bigger property projects, like repaving the front walk, repainting the exterior, or hiring professional landscapers to really improve the facade. For now, though, it's actually better to start small — especially if you plan on staying put for the long haul.
When you moved into your new home, you probably thought the heavy lifting was over. You might have purposely avoided buying a fixer-upper but that doesn't mean your work is done. The fact is that homeownership always involves some kind of necessary improvements. The goal is to keep your budget on track.
You don't have to go overboard with renovations. Start by identifying the issues in your new home that keep you from enjoying it to the fullest. Then, invest only a small amount of time and money into solving those problems in a cost-effective way. That way, you'll be able to save for more expensive improvements down the line without putting your life on hold.
I hope you find this article helpful. If you do, please share it on your Facebook page so others can benefit from it as well. Thanks in advance!
Related article
If you have the flexibility to move anywhere in the U.S., where could you buy the cheapest home? After examining data from Zillow and World Population Review. Here're 10 most affordable States in the South and the Midwest to consider when buying a house in 2024…