Final Walkthrough Problems: 6 Steps to a Stress-Free
Selling your home is an exciting time — and sometimes stressful with so many things to think about while trying to manage your home and work life at the same time. One thing that is often overlooked is the importance of the buyers' final walk-through.
After all, it seems like an inconsequential detail. Many sellers and buyers have learned otherwise. It can lead to problems, re-negotiations and delays. In extreme cases, it can be a deal breaker. Any of this adds unexpected stress, chaos and disappointment for all parties.
As the seller, you've been through all the stages of selling a home: the decision to sell, finding a realtor, pricing, preparing and staging your home, accommodating showings, and considering offers and making counteroffers. Now it's time to look forward to moving, attending the closing and starting your new beginnings in another location.
These 6 steps will help you over that last hurdle: the final walk-through.
1. Complete all expected repairs.

In your Purchase Agreement, you may have agreed upon certain repairs that must be completed before the closing. Be sure to look at that list and schedule all repairs with plenty of time for completion. Waiting until the last minute is not a good idea. Save a copy of the receipts for the buyers. They'll be thrilled that all the work is done and that they have documented proof.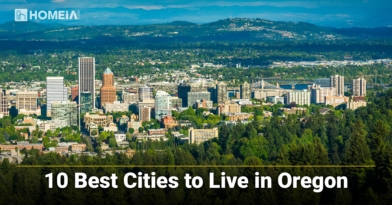 Oregon is a study in contrasts. It has 363 miles of the most breathtaking coastline you'll encounter anywhere in the world. But it also has dense forests, mountain ranges, and high desert country. Here're the 10 Best Cities to Live in Oregon…
2. List all included appliances, fixtures and personal property.

Once you have agreed with the buyers on which appliances and fixtures stay with the house as part of the deal, refer to your list to be sure you don't remove something that should transfer to the new owners. This can create frustration for the buyer and more work for you as you later scramble to get those things back in place. If this is found during the final walkthrough, it can cause delays in your closing.
Sometimes buyers also negotiate for ownership of some personal property, like furnishings or accessories. If you have agreed, they are looking forward to having these items in their new home and will be highly disappointed if the items are not there. Double check your list to make sure you are leaving these pre-negotiated items behind and that they are in the same condition as when you accepted the offer.
With year-round warm weather and over 8,000 miles of coastline, it's no wonder Florida is a prime vacation destination. Filled with wildlife, beaches, lakes, rivers, amusement parks, diverse entertainment options and much more, the population of Florida is growing with people that want to call Florida "home," soak up the sun…
3. Make sure all remaining appliances and fixtures are functional.

Unlucky is the day that the included appliance breaks right before the closing, but it happens. You'll be busy packing and tending to details of your move, but be sure to make a note if one of the appliances is failing or needs repair. The buyer will test everything, including running the dishwasher and washer. They will also check the electrical, plumbing, heating and air conditioning systems.
The week before the walkthrough and your closing, go through the house as if you were the home buyer. Check everything to see that it works. Turn on all the lights and fans. Check all toilets, showers and tubs for water pressure and possible leaks. Make sure all appliances are working, including the gas fireplace which might be overlooked if it's a summer sale.
One last check can save you stressful problems at the closing. You will feel much more confident when you know that everything is operational and that the buyers will be happy when they join you at the closing.
4. Keep lawn, landscaping and exterior in good shape.

In all the flurry of activity, some people forget the exterior. Grounds maintenance is especially important. The buyers are expecting the lawn to look as good as they remember. Be sure to mow, weed, trim and water. If you have an irrigation system, check to make sure the sprinklers are working properly.
The home should look great from the outside. This means that windows and screens have been cleaned and your patio or deck area is in good repair. Did you agree to re-stain the deck or fence? If so, those projects should be done before you get too busy with packing and interior repairs.
Another reminder: be sure the shrubs and plants the buyers saw when agreeing to buy the house are still there. It can be tempting to remove some perennials or favorite shrubs before leaving, but buyers will be upset if the plants they believed would be theirs are now gone. Don't make that mistake. If you have planted something sentimental that you want to take with you, you can list that in the Purchase Agreement so everyone is aware and there are no surprises.
The popularity of the waterfront can mean high housing costs and consumer prices. Luckily, for those willing to look past the likes of Malibu and Venice Beach, there are plenty of scenic spots along the country's lakes and oceans where retirees can make a nice home even with a reduced…
5. Make repairs and clean the house.

You might have agreed to making certain repairs and you've taken care of that. However, there are likely to be repairs that weren't listed, but are definitely expected. When you remove your TV from the wall, there might be a gaping hole from the bracket that needs to be filled and painted.
The same can be said for all the pictures and artwork throughout the house. Even before you begin your full-fledged packing, you can remove some of these items and patch the holes. A fresh coat of paint would also be well received.
As you start to pack up, you'll notice areas that could use some patching, painting or touch up. Also, be prepared for some minor touch up work after the movers have taken your belongings. There could well be that inevitable nick or scrape from furniture hitting a wall on its way to the truck. Your efforts will be much appreciated when the buyers walk through the house before the closing.
Travel aficionados who are looking to fill up their bucket list with various visits to fun U.S. states should most definitely pencil in Tennessee as one of their destinations. The people in the so-called Volunteer State (Go Vols!) are genuinely friendly folks who never fail to provide visitors with…
6. Prepare to empty the house and move out.

This seems pretty basic. However, many people have trouble organizing, packing and vacating, so it's smart to make a thorough list of what needs to be done so that everything moves out on schedule. Your closing could be delayed if the buyers find furnishings (or litter) still in the house. When the buyers arrive for the walkthrough, the house should be completely empty, except for items that were part of the agreement.
The house must also be clean. The cleaner it is, the happier the buyers will be. This lends itself to a smooth transaction at the closing. The people who are moving in have been stressed enough with their own packing and all that they've been going through. The easier you make it for them, the better. Do a last-minute check of each closet, cupboard and drawer to make sure you didn't miss something. In these hectic times, it can happen.
Before you consider a move to Chicago, you should consider 7 key factors that will increase your appreciation for the city and guide you to the right neighborhoods and activities for you…
The garage is another potential issue. It needs to be empty and clean. You should not leave items you think the buyers could use. Not everyone has the same view of what is useful. Clearly, trash is never useful, so be sure that all trash has been removed.
As a side note, if you are a seller who has been renting out your home, you have an added element for potential issues. It would be advisable to give your tenants notice and have them move out a few weeks before the closing so you have time to finish the necessary repairs and clean the house to satisfaction.
Unfortunately for some landlords, the tenants did not move out as agreed and because they were still in the house or had left a mess, the closing was delayed or the deal was lost. We don't want this to happen to you.
If you are thinking of selling your home or already into the process, these 6 steps should be on your radar to make sure the walkthrough is uneventful and your transaction is completed on time. You might wonder what happens if there is a problem that arises during the walkthrough. Then what?
If you have the flexibility to move anywhere in the U.S., where could you buy the cheapest home? After examining data from Zillow and World Population Review. Here're 10 most affordable States in the South and the Midwest to consider when buying a house in 2021…
Your realtor will help you through it, but you could expect any of these:
a. The closing might be delayed.
b. As the seller, you might be required to provide monetary compensation to the buyer for the disappointment, lack of compliance or inconvenience.
c. It might be agreed to hold a portion of the proceeds in escrow until repairs are completed or the issue is settled.
d. The worst-case scenario is that it might be a deal breaker, and you will lose the sale and start over.
The final walkthrough is the last chance for buyers to make sure the property is in good shape and everything is working as expected. They will take a serious look because it's their last inspection before parting with their money. As we have seen, the walkthrough isn't so inconsequential after all.
It matters greatly to a buyer who is making one of the most significant purchases of a lifetime, and just as compelling is the knowledge that once you buy, you will finance the results — for better or for worse.
For a smooth transaction, prepare for a pleasant, no-surprise, final walkthrough. Make the necessary repairs, leave behind all agreed-upon appliances, fixtures and personal items, make your list and check it twice to see that all systems and appliances are working properly.
Maintain the lawn and exterior so the property looks inviting, and clear the house and garage so that all spaces are empty, clean and in good repair. The new owners will be grateful and you will all smile at the closing.
If you have enjoyed this article and gained ideas to finalize your transaction with minimal stress, please share it with a friend who might also benefit. Thank you and best of luck with your closing!
Tags: final walk through problems, can a buyer back out after final walk through, home walkthrough