7 Key Factors to Know About Living in Chicago, Illinois
Is Chicago a good place to live? The answer to this question is Yes! Chicago, which sprawls over a 234-square-mile area on the shores of Lake Michigan, has many nicknames, including the City of Big Shoulders and the City of Gardens.
Most famously, though, it is known as the Windy City. While the nickname seems to pay tribute to the often-gusty lakefront weather, it was actually bestowed by East Coast journalists who mocked Chicagoans as braggarts when they pushed for national recognition over a hundred years ago.
The nearly 2.7 million residents of the 3rd largest metro area in the U.S. are known for their willingness to roll up their sleeves and go to work. They are proud to live in a city that combines an architecturally unique European touch with the bustle of a big city. Despite its large population, though, Chicago's vibe is far more laid back than the truly frenetic pace of a New York or Los Angeles.
Before you consider a move to Chicago, you should consider seven key factors that will increase your appreciation for the city and guide you to the right neighborhoods and activities for you.
Here are the top 7 key factors you should know before moving to Chicago:
1. Lifestyle
Downtown Chicago is the #1 tourist destination within a several-hundred-mile radius. Joggers and bicyclists enjoy the lakefront and the walkways along the south bank of the Chicago River. Shopping and restaurant options abound. Boat tours are a great way to take in the architecture along the lakefront and the river.
Residents and tourists alike enjoy the city's 580-plus parks and over 8,000 acres of green space. Highlights include over 40 miles of Lake Michigan coastline as well as the gorgeous greenery of Grant Park, Millennium Park, and Maggie Daley Children's Park—all right on the lake.
Festivals abound in Chicago, such as Jazz Fest, Blues Fest, Lollapalooza, and Gospel Music Fest. There are many neighborhood street festivals, from Greektown to the Guinness and Oyster Fest. The Air and Water Show, held every year in August, draws hundreds of thousands of visitors. The celebrations continue even during the harsh winters and include the Festival of Lights Parade and the Chicago Thanksgiving Day Parade.
A description of all the museums in Chicago, with their exhibits and festivals, would fill a book. Visitors can start with the Chicago Art Institute, the Museum of Contemporary Art, the Field Museum of Natural History, the Museum of Science and Industry, and Adler Planetarium.
Navy Pier is one of Chicago's prime destinations. The area is filled with shops, activities, and restaurants.
Summer attractions include movie nights at Grant Park—known for its giant fountain—and at Lakeshore East.
There are plenty of winter activities as well, including outdoor ice skating at Millennium and Maggie Daley parks, the Winter Wonderland at Navy Pier, and Kris Kringle Village around the giant Christmas tree at Daley Plaza.
Related article
Travel aficionados who are looking to fill up their bucket list with various visits to fun U.S. states should most definitely pencil in Tennessee as one of their destinations. The people in the so-called Volunteer State (Go Vols!) are genuinely friendly folks who never fail to provide visitors with…
For ardent shoppers, Chicago is a paradise. Of particular interest are the Magnificent Mile—an upscale commercial stretch of Michigan Avenue—and the shops along State Street, within the downtown area enclosed by the "L" train tracks.
There's plenty more in family entertainment nearby, from the Six Flags at Gurnee Mills to the Shedd Aquarium on the Lakefront Museum Campus and the Lincoln Park and Brookfield Zoos.
Chicago is a huge sports mecca, with the Bulls (NBA), Bears (NFL), Blackhawks (NHL), Cubs and White Sox (MLB), and Fire (MLS) all drawing ardent fan bases. Iconic venues such as Wrigley Field, Soldier Field, and the United Center are must-visit sites for fans. After all, Michael Jordan and the '85 Bears are part of America's collective sports psyche.
Chicago is also famous for comfort food, such as deep-dish pizzas at Giordano's or Pizzeria Uno, or prime steaks at Morton's, Gino & Georgetti, Rosebud, and others. Or just hop into any pub to get a down-home taste of midwestern warmth and hospitality. There is plenty of ethnic food to be had in Chinatown, along Devon Avenue, in Koreatown, and in Little Italy.
Chicago is also a top venue for entertainment and music. World-famous blues and jazz spots dot the city, such as Buddy Guy's Lounge, House of Blues, and Kingston Mines. World-class comedy at improv forums like Second City has produced a seemingly endless list of A-listers from Chicago: Bill Murray, John Belushi, Dan Aykroyd, Alan Alda, Mike Meyers, Joan Rivers, Amy Pohler, Tina Fey, Jim Belushi, and Steve Carrell, just to name a few.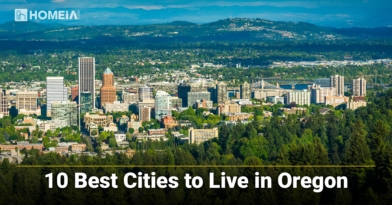 Related article
Oregon is a study in contrasts. It has 363 miles of the most breathtaking coastline you'll encounter anywhere in the world. But it also has dense forests, mountain ranges, and high desert country. Here're the 10 Best Cities to Live in Oregon…
2. Cost of Living in Chicago

The cost of living in Chicago can vary widely depending on factors such as housing, transportation, lifestyle, and family size. Living in Chicago can be expensive. This is due, in part, to the high (10.25% combined) state and local sales tax, grocery taxes, and restaurant taxes. Additionally, Illinois has the second-highest effective property tax rates in the United States, though Chicago is not among the top ten large cities in terms of effective property tax rate relative to income.
Monthly costs for an individual, not including rent or mortgage payments, averaged $980 in 2018 according to Hunter Properties.
Extrapolating from the numbers above, it costs a single person renting a 500-square-foot apartment just over $3,000 to live in Chicago for a month. A family of four needs around $3,500 to live before rent.
Chicagoans spend close to 39% of their income on housing, which is significantly above the 30% Housing Cost Burden. This means that housing costs are high in Chicago compared to the national average.
Chicago residents earn at a rate that is almost 14% higher than the national average income, which helps defray the higher housing costs within the city. From a different perspective, Chicago is much cheaper than, say, New York, where homes are almost triple the median home cost in Chicago. This is a major factor in New York being 75% above Chicago in terms of its cost of living index before taxes.
The city is congested most of the day, but an excellent public transportation system (elevated or "L"-trains, Metra, and buses) provides good alternatives to driving. Bicycling is also a growing trend, with dedicated bike lanes in most of the city center and business districts.
3. Housing Price

The city of Chicago is the seat of Cook County, the 2nd most populous county in the U.S. after Los Angeles County in California.
The Chicagoland (metro) area has many wealthy suburbs with excellent school districts, but the statistics below focus on the city itself, as opposed to the entire metro area, which includes eight other counties beyond Cook County.
Chicago's housing market had an excellent year in 2020, bucking trends in many other parts of the country. Per Illinois Realtors, median home prices in Chicago stood at $316,000 by the end of 2020, up 7.1% from $295,000 at the end of 2019.
Year-end 2020 home sales in the city of Chicago were about even with the previous year, which was a sign of a robust market even during the COVID-19 pandemic.
Chicago has one of the most diverse sets of options for singles and families, whether they rent or own. The huge downtown area of the city features hundreds of apartment and condominium units, particularly concentrated along Lake Shore Drive (apart from the park district), along Michigan Avenue, in the Loop area, and on the near North Side.
Neighborhoods such as Streeterville, Lake Shore East, River North, and the Gold Coast stand out close to downtown. Great neighborhoods outside include Lincoln Park, Lakeview, Forest Park, and Oak Park.
Fundamentals in the housing market have remained strong in the city of Chicago and the market has not necessarily favored buyers or sellers going into 2021. However, as the demand for real estate rises, driving costs higher, the time window to get a great deal may be closing.
Related article
Michigan is the only state in the United States with two separate peninsulas and five surrounding Great Lakes. Its landscape is diverse, ranging from industrialized skylines to sweeping sand dunes to gorgeous waterfalls. Once home to Henry Ford, it's also considered the epicenter of America's…
4. Safety & Health Care
Chicago has a colorful history, replete with famous gangsters such as John Dillinger, "Baby Face" Nelson and, of course, Al Capone.
Today, Chicago falls just outside the top 30 among U.S. cities in terms of violence. While a violent crime rate of 943 per 100,000 residents cannot be ignored, Chicago has less than half the crime rate of Detroit, the most violent city in the U.S. with 1,965 violent crimes per 100,000 residents. It also lags many other large cities, such as St. Louis, Houston, New Orleans, and Cleveland, and even two other cities in Illinois (Springfield and Peoria).
Shootings and violent crimes have spiked in the first three months of 2021, but the overall trend is firmly downward. For example, shooting rates have decreased by close to 30% over the past three years. There have been a number of steps taken towards police reform and community policing.
Chicago has excellent healthcare, with close to 90% of the residents being covered by commercial insurance, Medicare, or Medicaid.
Multiple world-renowned hospitals operate in the city, including the huge Northwestern Memorial Hospital, which was recently named one of the top ten hospitals in the country by U.S. News and World Report. Other well-known hospitals in the city include Rush University Medical Center (ranked #17 on the same list), the University of Chicago Medical Center, and Loyola University Medical Center.
Related article
Once a farming and milling community, Edina has blossomed into a preferred suburban city with all the most desired amenities. From upscale, boutique shopping and exquisite dining to consignment shops and casual bistros, residents and visitors are enamored with the…
5. Employment
Unemployment rates in the Chicago metro area, which includes the city of Chicago, Naperville, and Arlington Heights, have spiked during the COVID pandemic, nearly doubling from 3.9% in Q1 of 2020 to 7.7% in Q1 of 2021, according to U.S. Bureau of Labor Statistics (BLS) and the Illinois Department of Employment Security (IDES).
While this is above the national rate, Chicago generally tracks along with the national unemployment rate. The businesses and industries in Chicago offer abundant work opportunities, especially in publishing, finance, real estate, manufacturing, biotech, health services, professional services, transportation, and wholesale food processing.
Even though COVID has taken a sharp bite out of the Chicago job market, there were still more than 3.4 million jobs in the Chicago-Naperville-Arlington Heights Metro Division, according to BLS data. The Chicago area, which produced an annual GDP upwards of $600 billion in 2019, remains one of the major financial contributors both nationally and around the world.
The Chicago area is third on the list of cities—after New York and Dallas—in terms of the cumulative revenues produced by Fortune 500 companies headquartered in the metro area. In May 2020, the total revenues exceeded $842 billion, according to Fortune magazine.
Some of the biggest companies headquartered in Chicago include Boeing Corporation, United Continental Holdings, McDonald's, Conagra Brands, Archer Daniel Midlands, Exelon, AbbVie, US Foods, and Abbott Laboratories. Additionally, many major corporations are headquartered in the suburbs of Chicago.
In short, there is no shortage of opportunities for qualified professionals in Chicago.
6. Education
Chicago Public Schools (CPS) is the second-largest school district in the United States, with 658 schools serving around 360,000 students. Graded B- overall by Niche.com today, CPS has made remarkable strides forward since the late 1980s when it ranked among the worst school districts in America.
The graduation rate has risen steadily, especially in the last two decades. In the 2019-2020 school year, the graduation rate rose to a record high of 82.5%, beating the previous high reached in 2018-2019. The rise in graduation rate was accompanied by a decrease in the dropout rate; the latter reached a record low of 5.6% in the 2019-2020 school year, fueled strongly by improvements among Latinx and African American students.
What makes these numbers remarkable is that these improvements happened during one of the most unusual and difficult periods for schools—namely, the COVID-related shutdowns.
Recent studies by Stanford University state that Chicago public school students, on average, learn more from third grade through eighth grade than those in any similarly sized district in the country, while more students from the district are enrolling in college than ever before.
A number of schools under CPS were awarded rankings among the top 100 high schools in the state, with the highest ranking being Payton College Preparatory High School, Northside College Preparatory High School, Jones College Preparatory High School, Whitney Young Magnet High School, and Lane Technical High School. A total of nine CPS schools ranked among the top 350 schools in the United States.
Related article
Before considering your move to Boston, we have compiled a list of 7 key factors we put together for you. Boston life is about the best city life you can imagine. Relatively small, it's often referred to as the walking city, with world-class museums, universities, theaters, and gourmet dining…
Chicago also has top-ranked private school options, such as the University of Chicago Laboratory School, Latin School of Chicago, Francis Parker, Francis Xavier Warde, and St. Ignatius College Prep.
Likewise, Chicago's institutions of higher education have seen a recent boom in both enrollment and graduation, awarding more than sixty thousand degrees last year.
The University of Chicago and Northwestern University are ranked among the top 20 universities by U.S. News and World Report. Other well-known universities in Chicago include Loyola and DePaul Universities, as well as the University of Illinois in Chicago.
Chicago has multiple world-renowned business schools, led by the Kellogg School of Business (Northwestern University) and the Booth School of Business (University of Chicago).
In 2020-2021, median tuition costs in Chicago were $21,379 for out-of-state students and $6,795 for in-state students, both higher than the national averages of $17,871 and $6,540, respectively. Tuitions ranged from over $60,000 (University of Chicago) to below $7,000, according to College Tuition Compare.
Related article
If you have the flexibility to move anywhere in the U.S., where could you buy the cheapest home? After examining data from Zillow and World Population Review. Here're 10 most affordable States in the South and the Midwest to consider when buying a house in 2022…
7. Climate in Chicago

Chicagoans joke that they only have two seasons—winter and summer—with some rain in between. Temperatures start dropping rapidly by mid-October, with no signs of consistent warming until nearly May. Heavy coats on Halloween and snow boots at Easter egg hunts are not uncommon. Neither are snowfalls in mid-April.
While the winter wind chill can drop as low as 40 below on the Fahrenheit scale, summers in Chicago are warm and sunny with temperatures averaging in the low- to mid-80s, with the famous Chicago wind drawing off the humidity.
Frequently Asked Question About Living in Chicago
What is the quality of life in Chicago?
The quality of life in Chicago is influenced by a wide range of factors, including economic opportunities, cultural amenities, cost of living, safety, education, healthcare, and more. Chicago is known for its vibrant arts and culture scene. The city offers numerous theaters, museums, art galleries, music venues, and cultural festivals.
There are plenty of dining options representing diverse cuisines, as well as a lively nightlife.
Chicago is home to several world-renowned universities and colleges, including the University of Chicago, Northwestern University, and the University of Illinois at Chicago. Besides, Chicago is a major economic hub with a diverse economy, including finance, technology, manufacturing, healthcare, and more.
Chicago has an extensive public transportation system, including buses and the "L" train system, which makes it relatively convenient to get around the city without a car. Last but not least, Chicago has a beautiful lakefront along Lake Michigan, offering opportunities for outdoor activities, picnics, jogging, and biking. The city also has numerous parks, including Millennium Park, Grant Park, and Lincoln Park, providing green spaces for relaxation.
What salary do you need to live comfortably in Chicago?
The salary needed to live comfortably in Chicago can vary widely based on factors such as your lifestyle, housing choices, family size, and personal preferences. Here is a general estimate of the salary range that might be considered comfortable for a single individual living in Chicago:
Housing: Housing costs, including rent or mortgage, utilities, and insurance, can vary greatly depending on the neighborhood and the type of accommodation. As a general estimate, a one-bedroom apartment in a decent neighborhood might cost around $1,500 to $2,500 per month.
Transportation: This can include public transportation costs, car expenses, insurance, and gas. A monthly CTA pass might cost around $105, and additional transportation expenses could vary based on whether you own a car and how frequently you use it.
Groceries and Dining: Food costs can vary based on eating habits. A monthly grocery bill might range from $150 to $300, and dining out expenses could be an additional $200 to $400 per month.
Healthcare: Healthcare costs can vary greatly based on insurance coverage and medical needs. Some employers provide healthcare benefits, while others might not. Health insurance premiums, co-pays, and prescriptions are factors to consider.
Entertainment and Miscellaneous Expenses: This category includes leisure activities, entertainment, clothing, personal care, and other discretionary spending. The amount spent in this category can vary significantly based on individual preferences.
Given these factors, a single individual might need a gross annual salary in the range of $60,000 to $80,000 or more to live comfortably in Chicago. This estimate accounts for basic living expenses and provides some room for savings, leisure activities, and unexpected costs.
What are the Pros of living in Chicago?
Living in Chicago comes with a variety of advantages and opportunities that make it a popular and vibrant city to call home. Here are some of the pros of living in Chicago:
1. Cultural Diversity: Chicago is known for its rich diversity, with a wide range of cultures, ethnicities, languages, and traditions represented throughout the city. This diversity contributes to a dynamic and inclusive atmosphere.
2. Economic Opportunities: The city is a major economic hub with a diverse economy encompassing finance, technology, healthcare, manufacturing, and more. This presents a variety of job opportunities across different industries.
3. Arts and Entertainment: Chicago boasts a thriving arts and entertainment scene. The city is home to numerous theaters, museums, art galleries, music venues, and cultural festivals, offering a constant stream of entertainment and cultural enrichment.
4. Sports Enthusiasm: If you're a sports fan, Chicago has professional teams in baseball (Cubs and White Sox), football (Bears), basketball (Bulls), and hockey (Blackhawks). The city's passionate sports culture is a major draw for many residents.
5. Dining Scene: Chicago is known for its diverse and vibrant culinary scene. From world-class restaurants to neighborhood eateries, you can find a wide range of cuisines and dining experiences.
6. Lakefront and Parks: Lake Michigan's beautiful shoreline provides opportunities for outdoor activities, picnics, jogging, and biking. The city also has numerous parks, including Millennium Park and Grant Park, offering green spaces for relaxation and recreation.
7. Public Transportation: Chicago's extensive public transportation system, including buses and the "L" train system, makes it relatively easy to get around the city without a car.
8. Education and Universities: The city is home to renowned universities and colleges, providing opportunities for higher education and research.
9. Architectural Landmarks: Chicago is known for its iconic architecture, including the Willis Tower (formerly the Sears Tower), the John Hancock Center, and the historic Chicago Theater.
10. Business and Networking: The city provides ample opportunities for networking, business connections, and professional growth, given its numerous industries and economic activities.
11. Festivals and Events: Chicago hosts a wide range of festivals, events, parades, and cultural celebrations throughout the year, offering residents ample opportunities to engage with their communities.
12. Sense of Community: Neighborhoods in Chicago often have strong senses of community, with residents actively participating in local events, associations, and initiatives.
13. Healthcare Facilities: The city has several reputable healthcare facilities and medical centers, providing access to quality healthcare services.
14. Public Services: The city offers a range of public services, including libraries, community centers, and parks, contributing to the overall quality of life.
15. Central Location: Chicago's central location in the United States makes it a convenient travel hub for both domestic and international travel.
What are the cons of living in Chicago?
While Chicago has many advantages, there are also some challenges and drawbacks associated with living in the city. Here are some of the cons of living in Chicago to consider:
1. Weather: Chicago experiences all four seasons distinctly, with cold winters and hot, humid summers. The weather extremes can be challenging for some residents, particularly those not accustomed to harsh winters.
2. Cost of Living: The cost of living in Chicago can be relatively high, especially in certain neighborhoods and for expenses such as housing and property taxes.
3. Traffic and Transportation: While public transportation is well-developed, traffic congestion can be a concern, particularly during rush hours. Commutes can be long, and parking can be expensive and limited in some areas.
4. Crime Rates: While Chicago is a large and diverse city with many safe neighborhoods, it also experiences higher crime rates in certain areas. It's important to research neighborhoods and take safety precautions.
5. Property Taxes: Property taxes in Chicago can be higher than in some other cities. This can impact homeowners and renters alike.
6. State and Local Taxes: Illinois has higher state income taxes compared to some other states. This can impact your overall tax burden.
7. Noise and Crowds: Living in a densely populated city means dealing with noise, crowded public spaces, and potential for traffic congestion.
It's important to note that everyone's experience in Chicago will vary, and what some see as cons might not be an issue for others. Before making a decision to move, it's recommended to thoroughly research the city, visit different neighborhoods, and consider how the pros and cons align with your preferences and priorities.
Conclusion.
Chicago offers both visitors and residents an upscale, refined, and urban feel with big-city opportunities. From coffee shops to bars, modern and historic architecture, and miles of white sand beaches and blue water, the City of Big Shoulders has become a haven for companies, families, and young professionals, and a great place to call home.